Top 10 Live Chat Software Solutions for Website
With a staggering 4.57 billion active daily users, the internet has encompassed 59% of the overall world population and paved the way for businesses to establish a sturdy flow of online transactions. However, as time passes and technology advances, consumer demand has also evolved into something more sophisticated and stringent. They yearn for better (or rather, the best) service when they do transactions online.
A recent statistic conducted last March cited that 88.05% of online shopping orders were abandoned. Now, what could have pushed customers to abandon their shopping carts? The answer is poor communication. Efficient customer support is highly instrumental at present because it helps businesses gain more customers, lower the chances of losing sales, and ultimately, stay above water.
An optimal way to help a business survive the cutthroat online rivalry among businesses is by employing different live chat customer service software. Incorporating live chat support software makes a flawless and harmonious interaction between companies and end-users possible. It is effective because it typically uses a user-friendly messaging widget like this: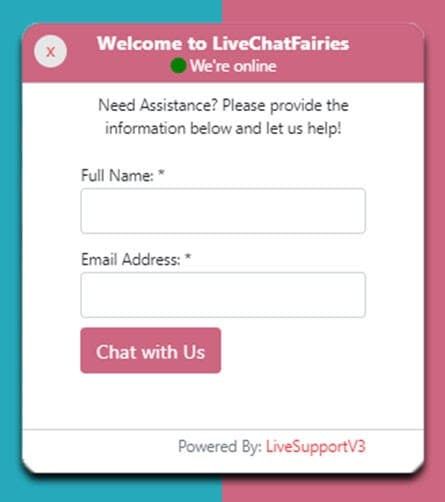 On the other hand, as different live chat support software emerges, it gets harder for businesses, especially startups, to decide which one they should use. If you are having a hard time determining where to start or settling on a real-time messaging service that's applicable to the nature of your services, here is a breakdown of the top live chat software for websites, along with their pros, cons, and price range to help you with your decision-making process.
1. Live Chat
Launched in 2002, LiveChat is one of the pioneers in providing the best live chat customer support software solutions in the industry. LiveChat offers a broad variety of online support features that businesses can maximize to gain continuous connectivity with their existing customers and website visitors.
LiveChat's key features:
Customizable survey forms
Easy-to-integrate WordPress plugin
Easy integration with CRM software, Google Analytics, Zendesk, and more.
Pricing
LiveChat offers different plans with varying prices. They offer a Starter Plan of $16 per agent per month that can either be billed annually, or monthly. For monthly payments, they have a $19 monthly plan. Also, each plan comes with a 14-day free trial.
Pros
Extremely fast loading chat window
Efficient live chat functionality
Ticketing features
Cons
Availing the full functionality can be expensive
If you are opting to provide live chat software with an easy-to-use UI, reliable widget, cost-efficient features, and overall simplicity, LiveChat is a great choice for your website.
2. Olark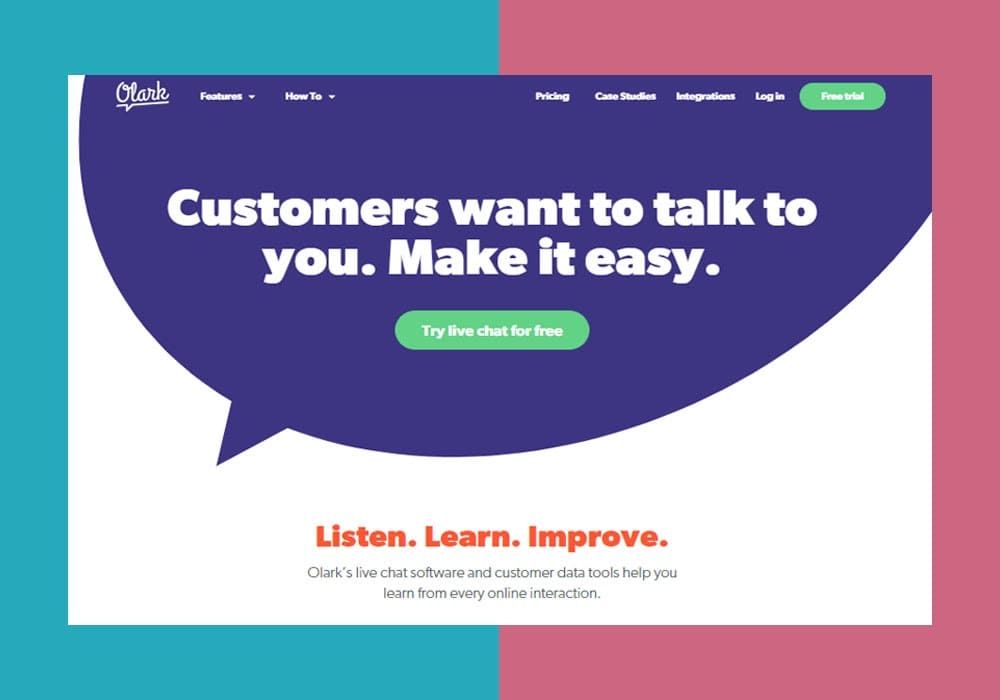 Olark is yet another popular mono-solution that solely offers live chat services to all types of online platforms. It offers an easy-to-use chat widget. Adding Olark as a WordPress plugin is also rather simple. The most notable feature of this software is its pricing flexibility. This is especially advantageous to small support teams looking for an inexpensive live messaging software with add-on options for short-term specialty services requirements.
Olark's key features:
Auto-messages
Custom Chat Form
Saved Responses
Pricing
Olark offers a flexible pricing system that starts at $15/user/month with available add-ons such as Visitors insight (at $59 and $99/month), Chat translation ($29/month), and Visitor co-browsing ($99/month).
Pros
Flexible pricing
Real-time tracking
2-week trial
Cons
Lacks dynamic
Limited customization features
Manual chat is unavailable
Olark offers efficient live chat support in real-time, making it one of the best live chat solution providers out there. Though lacking in the customization part, Olark's user-friendly dashboard enables its users to seamlessly manage and control incoming messages.
3. LiveChatFairies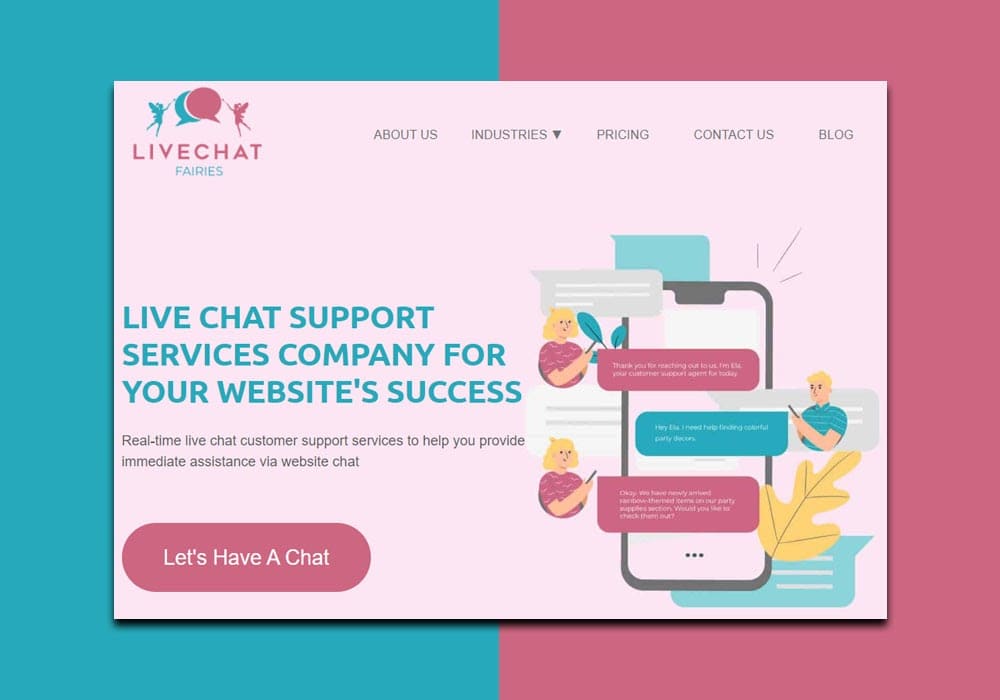 LiveChatFairies is yet another all-in-one live chat software provider that focuses on flexibility. LiveChatFairies software is powered by one of the most impressive software for instant messaging called LOOP (Live Online Operator Platform). Their use of LOOP chat solutions for customer service helps handle and send bulk messages in quick succession through IM and SMS. The result is businesses effortlessly extend their network reach.
LiveChatFairies' tailor-made features:
Customizable widget to suit your live chat configuration and website theme
Covers a wide selection of industries
Free Setup and onboarding
Multilingual chat support
Third-party software compatibility
Pricing
LiveChatFairies' straightforward pricing starts at $7.50 per hour and per conversation. The chat widget's price is $49, including all customizations and configurations that your website requires.
Pros
Android and iOS optimized
Covers a wide range of languages
Easy-to-use dashboard and widget
Fast, charge-free setup
WordPress integrated
Cons
Limited plans and packages
No Trial
The core strength of LiveChatFairies is the ability to handle bulk messages via LOOP technology. The feature is a huge time-saver for both small and big businesses alike. The capacity to cover different business demands and offer decent rates make them worth checking out.
4. Live Agent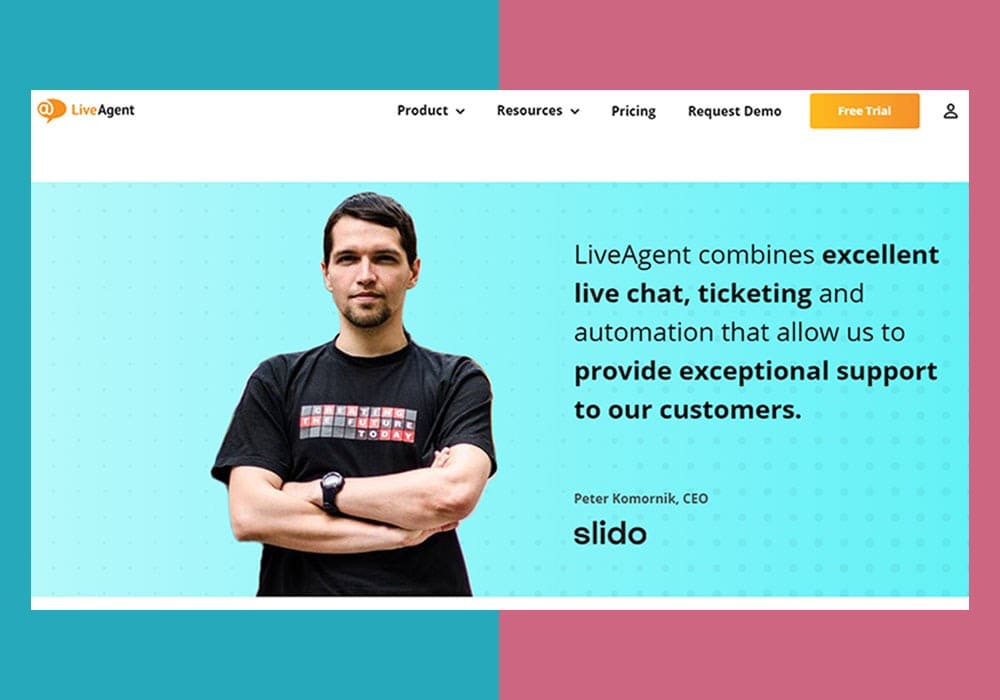 LiveAgent is one of the most popular live chat and helpdesk software providers in the omnichannel landscape. They have a broad range of features, ranging from ticketing and live chat support, to call center services. LiveAgent works best for businesses that are yet to develop and establish their support desk system as it's all-in-one platform can make things much easier to integrate and customize to suit every business' requirements.
LiveAgent key features:
Automated Ticketing System
Easy WordPress Integration
Message Tagging
Smart Chat Routing
Spam Filters
Pricing
Much like Hubspot Live Chat, LiveAgent offers free subscription but features are limited. Their paid subscription, however, is charged at $15/agent/month for ticketing solution, $29/agent/month for ticketing plus live chat solution, $39/agent/month for their all-inclusive services.
Pros
Cross-platform integration
Flexible Pricing
Offers free subscription
Seamless integration to WordPress and other website builders
Cons
No automatic logging off system
Ticketing can be confusing at times
UI design can be confusing
5. Chaport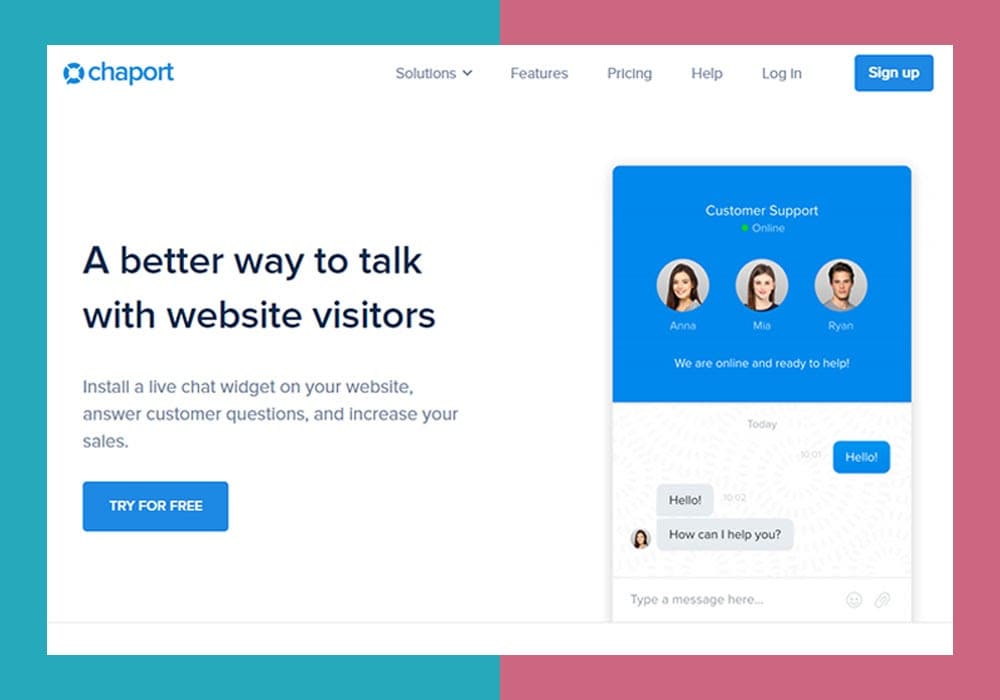 If your business is looking for live chat solutions for customer service that offer freemium plans and support hassle-free WordPress integration, then Chaport might just be the ideal option for you. Chaport's forever free plan encompasses almost everything you need to have an efficient live chat widget for your website.
Chaport key features:
CRM integration
Live chat support apps for mobile devices
Multilingual chat widget
Third-party integration through Zapier
Pricing
Chaport offers a free subscription plan which is limited to all the basic features. The Free Plan allows you to work with one operator only. Chaport's paid Pro Plan, on the other hand, costs $9.80/operator/month and it includes typing insights, visitor notes, saved replies, auto invitation, and several other features essential for efficient customer support.
Pros
Free subscription plan
Affordable pricing
Easy-to-set up
User-friendly
Cons
Limited mobile app features
Limited options to include knowledgebase
Inconsistent system
If your business is looking for an excellent live chat service provider that doesn't break the bank even after availing their paid subscription, Chaport is an ideal choice for you. The extent of the freemium feature is rather limited (unlike other service providers), but Chaport is quite a game-changer on its own.
6. Intercom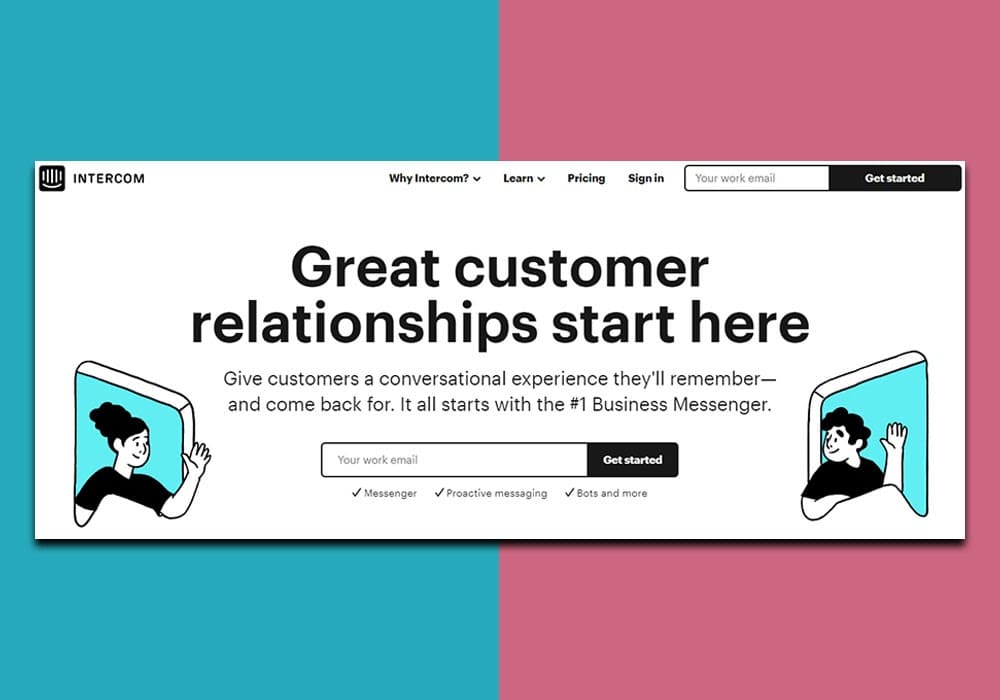 One of the best live chat service providers that focuses on feature flexibility and quality is Intercom. Aside from providing tools to help you capture leads, improve engagement and conversion rates, and boost your marketing strategies, Intercom also offers a one-stop-shop for one of the best live chat solutions available on the interweb.
Intercom live chat's key features:
Chatbots
Customizable message widget to match with your website's configuration and themes
Integrated Apps
Up-to-date real-time messaging technologies
Pricing
Although Intercom is one of the best customer support software solutions providers on the internet right now, Intercom is still dubbed as a "prolific but expensive" live chat service provider. Their Essential Plan starts at $80/month plus additional add-ons and usage-based fee thereafter.
Pros:
Google Analytics integrated
Slack integrated
Sleek UI
Powerful live chat software
Cons
Prices of plans can be very expensive in the long run
No tags
Buggy (at times)
If your business is looking to improve your online help desk while sticking to a strict budget, Intercom may not be the best software. But if money is not an issue, Intercom can showcase its full potential, which in turn, is highly instrumental for your business' success.
7. Hubspot Live Chat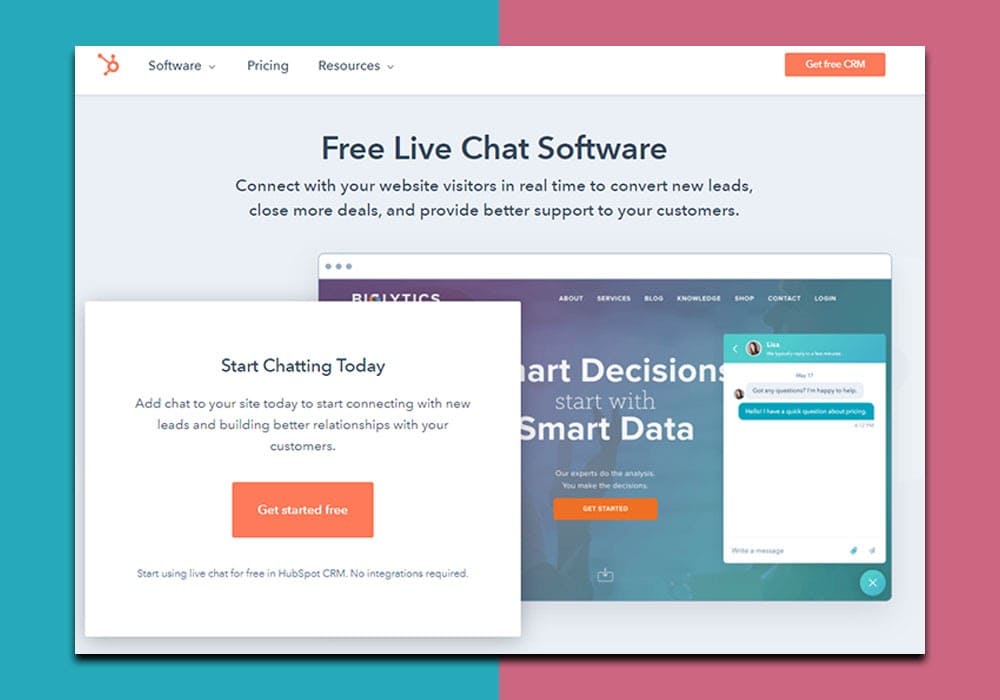 Aside from providing an "all-in-one marketing software" that lets businesses leverage their blogging, SEO, social media, marketing automation, and web analytics, Hubspot's CRM plays a crucial part in a company's overall branding.
Hubspot's free CRM comes with live chat, chatbot, and several other features, making it one of the best live chat customer support software providers especially when your team is tight on a budget.
Hubspot's key features:
Automated contact capturing
Customizable chat widget
Chatflow feature (enables you to create automated messages to engage with different types of visitors)
24/7 chatbot assistance
Pricing
While Hubspot can be used for free, their paid subscription plans start at $50/month for the Starter Plan, $800/month for Professional Plan, $3200/month for Enterprise Plan.
Pros
Integrated with Hubspot CRM
Free Subscription
Chatbot Builder
Easy-to-integrate Dashboard
Cons
Too basic
Unbranding is not allowed in free plan
Perhaps, Hubspot's strength, aside from offering free subscription plans, is it is natively integrated with Hubspot CRM which helps users build and send chat messages proactively to a more diverse population of visitors.
8. PureChat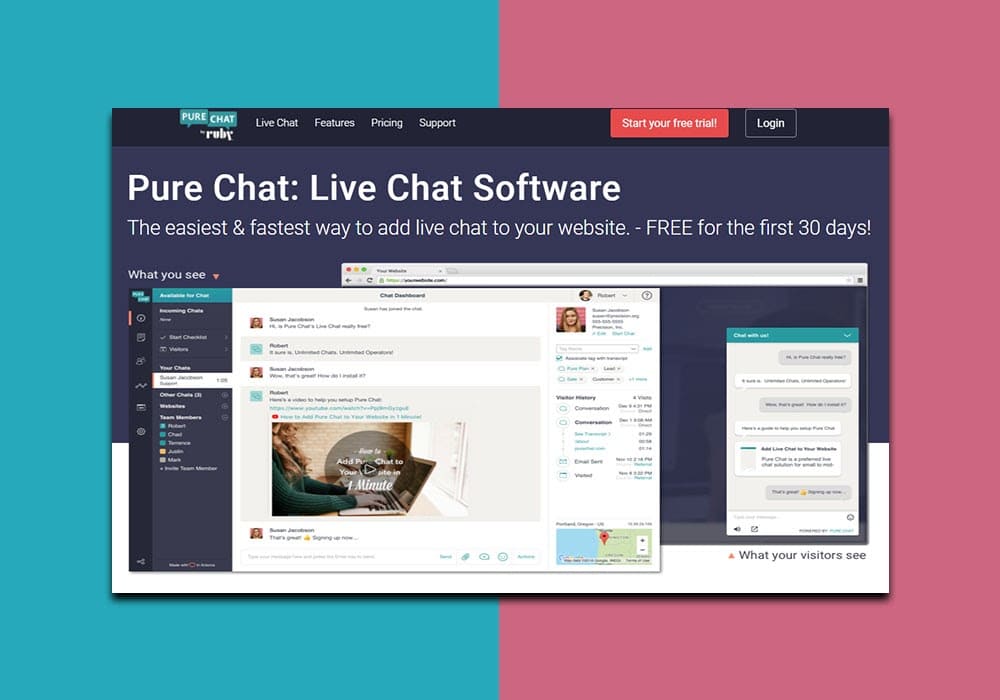 PureChat is yet another live chat software provider that offers free services. This is highly beneficial for small and startup businesses that are struggling to grow their business and make the most of the resources they have. Its freemium plan includes almost all the basic elements that a live messaging software offers. PureChat allows you to add up to three operators with unlimited chat history, along with a mobile app that enables your customers to send you messages even when you are offline.
PureChat's key features:
Advanced widget customization (for premium subscription only)
Canned responses
iOS and Android Optimized
Real-time information tracking
Trigger-based alerts and actions
Unlimited chat history
Pricing
Pure Chat's Basic Plan is available for free while their Growth Plan starts at $39/month. Pro Plan starts at $79/month, which is then billed annually.
It comes with mobile apps so that you can stay connected with customers. Your customers can send you email messages when you are offline and the pre-chat forms help collect user information for your future reference.
Pros
Free Plan Subscription
Easy-to-use dashboard
Easy way to answer chat messages in real-time
Cons
Too basic and lacks dynamics
Native integration features are rather limited
Although very basic software, PureChat can be a very useful tool for providing customer support in real-time especially when your business is on a tight budget and that's that. PureChat's features are rather limited especially to other marketing functionalities that other live chat software does but it is still one of the best live chat software for small businesses.
9. Help Scout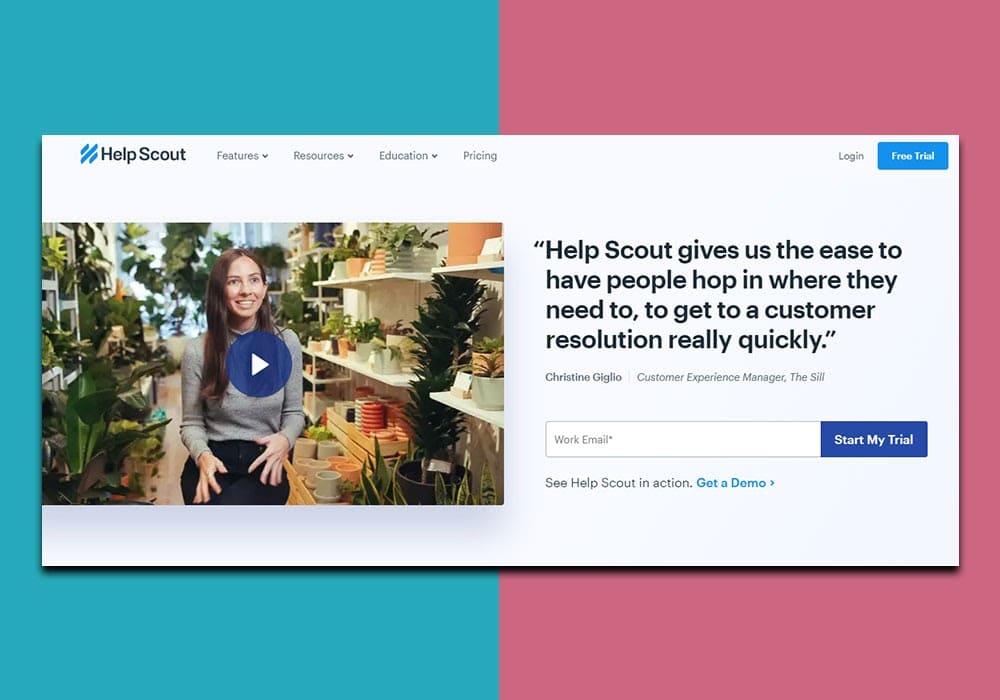 Help Scout is a live chat software provider that offers all-in-one live chat solutions with decent pricing and amazing plan packages. Aside from offering all the essential features that other software provides, Help Scout's basic subscription also includes knowledgebase and ticketing functionalities.
Help Scout's key features:
Help Bot allows you to collect emails
Specific audience targeting through a chat widget
Email-integrated software
Easy switching to live chat and knowledgebase tabs on widgets
Ticketing functionalities
Pricing
Help Scout offers three plans for its customers that start at $20/user/month for the Standard Plan, and $35/user/month for the Plus Plan. As for their Company plan, you can contact Help Scout directly to make assessments. Note that these plans come with a 15-day trial.
Pros
Chat Bots
Efficient ticketing functionalities
Up-to-date live chat technology
Easy-to-integrate
Cons
Inconsistent analytics and reporting system
Lacks spam filters
If you are looking for efficient live chat functionalities with decent pricing, try Help Scout. Out of all the options enumerated in this blog, Help Scout surpasses them by offering the most modernized and fresh instant messaging technologies in the market today.
10. ChatBot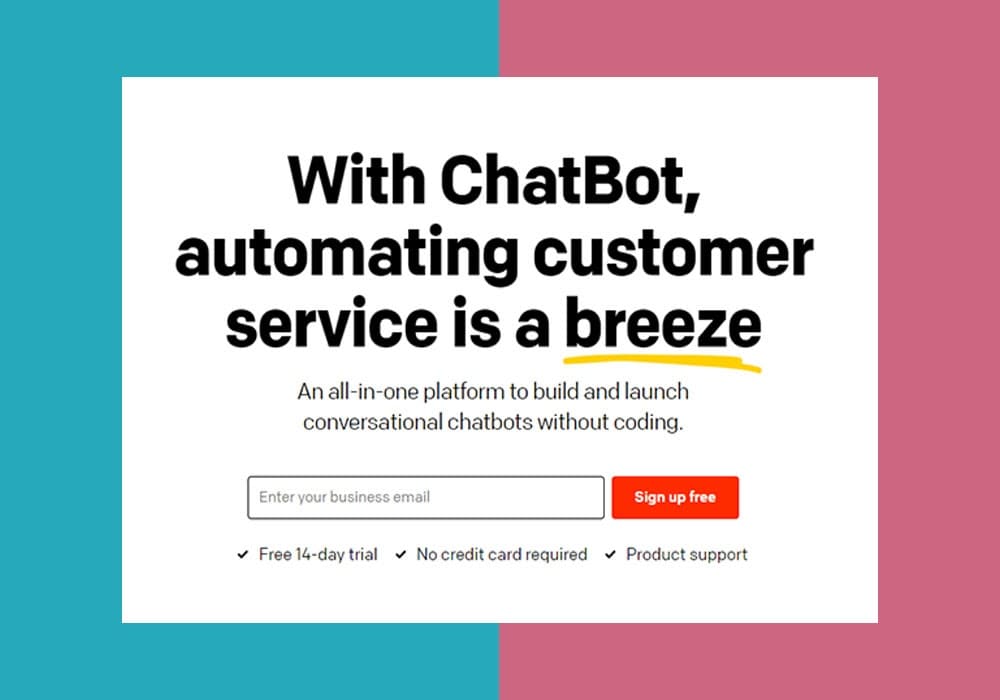 Chatbot features the full potential of Artificial Intelligence incorporated into live chat solutions and chatbots — hence, the company's name.
ChatBot's key features:
AI-powered live chat software for more efficient customer support
Drag-and-drop feature for easy conversation building
Industry-specific template library
Machine learning algorithm
Open API
Pricing
ChatBot's Starter Plan starts at $50/month, $149/month for the Team Plan, and $499/month for the Business Plan with 1000, 5000, 25,000 chats respectively. Note that if you run out of chats, you can extend your plan by paying $0.01 per bot interaction. You can also go further and try their Enterprise Plan by contacting ChatBot directly to make the most suitable custom package for you.
Pros
Advanced AI technology
Easy-to-use dashboard and chatbot configuration
Efficient drag and drop feature
Fast response
Scale your team easily
Cons
Packages can be expensive in the long run
If you are looking for an online messaging software that can help you save time and money for hiring human operators, Chatbot is effective in expanding your workforce. They provide opportunities to scale your support team seamlessly without the need to hire additional in-house staff.
What are the best live chat solutions for your business?
This is the question that you have to answer yourself. The ones listed in this article will serve as a basis for you to become more knowledgeable on how live chat really works. The internet is where the best live chat software for websites throngs for clients on the internet. Each possess varying strengths and weaknesses, but there are particular features that you must consider carefully when picking the right software for your website. Focus on features such as automation, bulk messaging, chatbots, knowledgebase, and ticketing functionalities, and see whether their setup and rates fit your business needs accordingly..
Basically, you should pick the one that makes you feel complete and content to avoid pitfalls and customer support chaos in the future.